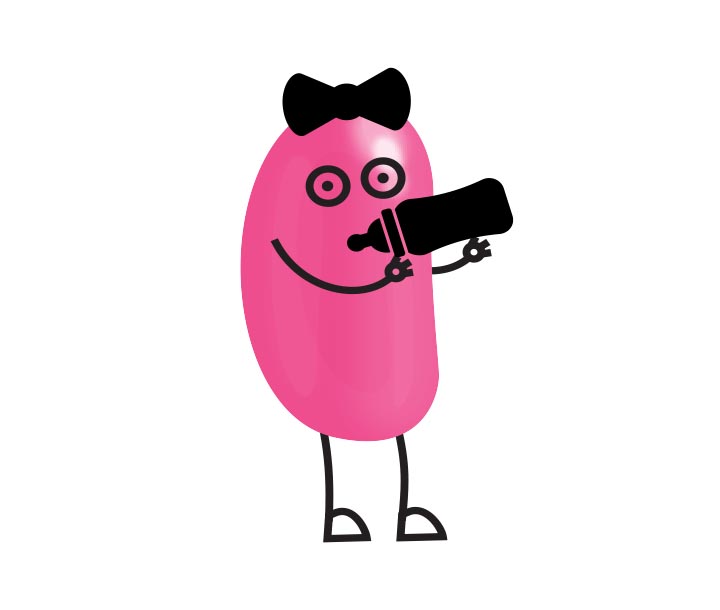 The first beans
It's 1941. By today's colourful standards, Australia was a dull old place. We drove cars that were black or grey or beige or brown. We lived in houses made from dark brown bricks. Our favourite toys were teddy bears. Brown, of course.
What we all needed was a little brightness. We needed some colour. What we needed were jelly beans!
And so, the first Glucojel jelly beans appeared in Aussie pharmacies.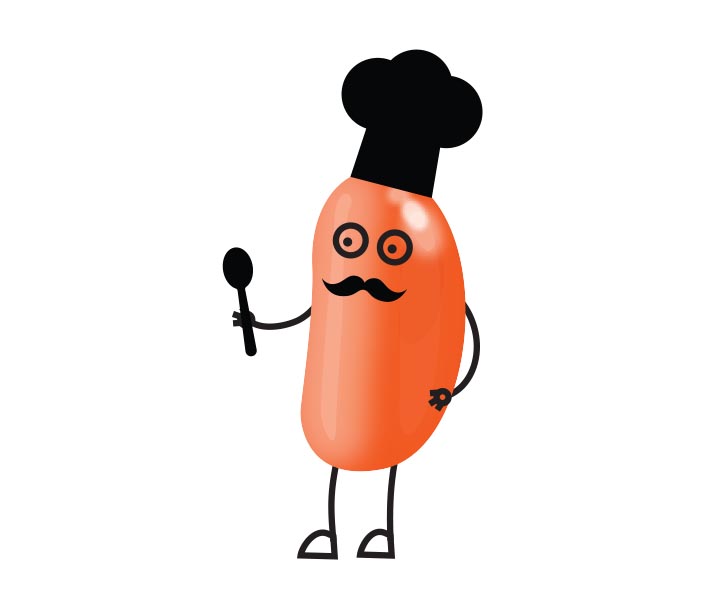 The recipe
You thought we were going to give away the Glucojel recipe, didn't you? Well, no. If we did that, every man and his dog (well maybe not his dog) would try to copy what has made Glucojel Australia's favourite.
We will tell you one thing that's in them that makes them special. The name gives you a clue. Glucojel jelly beans are made with glucose, which is readily absorbed into the bloodstream.
Nothing rushed
Are you surprised to learn that it takes around 28 days to make a jelly bean?
Firstly, the mixture for the centre of the beans is poured into bean-shaped moulds. They are left to 'dry' until they reach the perfect level of chewiness.
The beans are then taken to be coated with layers of sugar which can take up to two hours. This is where they get their natural colours and flavours.
Once the coatings are dry, our nine delicious Glucojel colours are all mixed together and given a final polish to give them a lovely shine. So they'll look their best when they go out into the world!
You just can't rush making Glucojel jelly beans. Perfection doesn't happen overnight!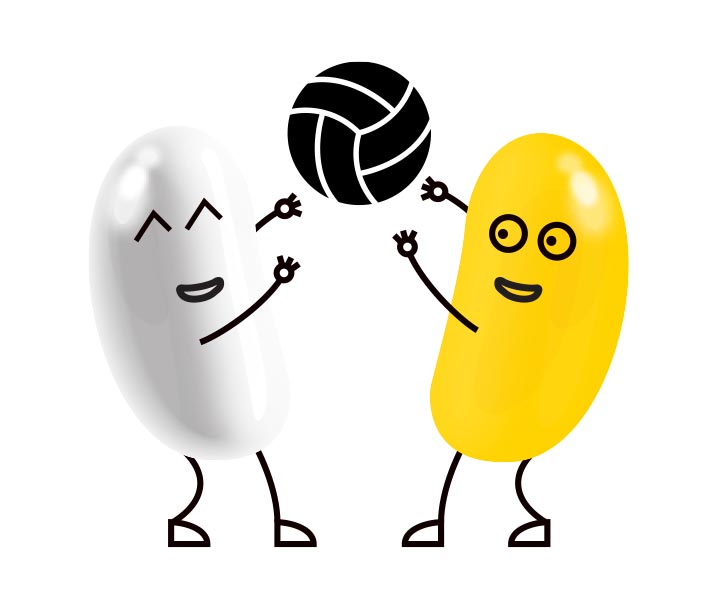 Energy for active kids
In the 1950s, Australia entered a baby boom. New suburbs sprouted in our cities. Suburban streets were filled with the sounds of billycart wheels on footpaths. Cowboys and Indians ran around backyards. School playgrounds were filled with skipping kids – and the skipping rope rhymes that every kid knew by heart. Suburban ovals became the scenes of school athletics carnivals.
With so much activity, pharmacists saw the need to provide Aussie kids with the energy to keep them going (and stop them from fainting).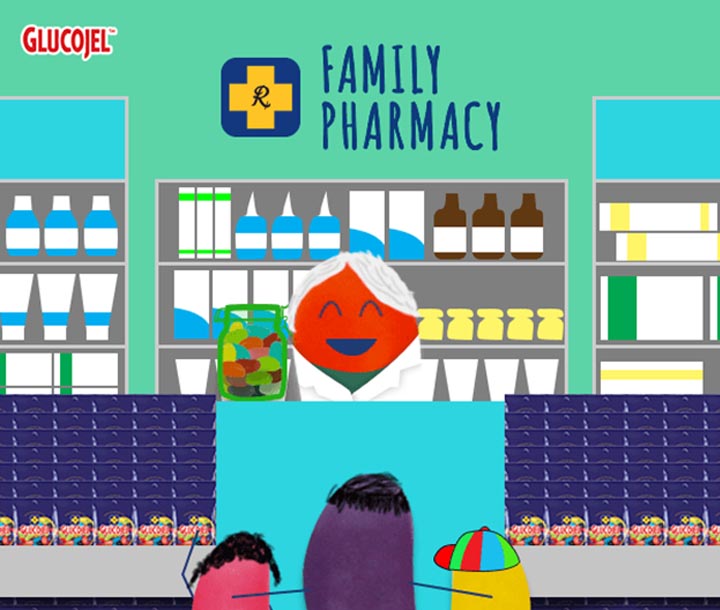 Under the counter
Just as Glucojel became a common sight in Australian pharmacies, their placement in pharmacies became standard right across the country. When we visited the pharmacy – any pharmacy – we knew that the jelly beans were below the counter.
Because Glucojel packs have a clear panel on the front, we learnt to have a quick look to check that there were plenty of our favourite colours.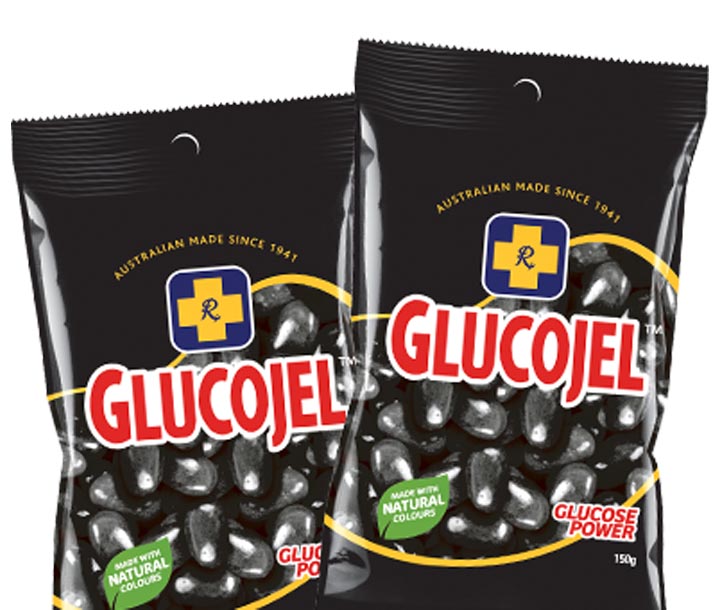 We need to talk about black
Of all the Glucojel colours, there's one that divides the nation. Black. You either love the black ones or you hate them. In some households, they're the last to be eaten. In others, they're the first.
For the black jelly bean lovers out there, this was the first colour to get a bag of its own. Finally, black beans didn't have to share space with other colours. Black lovers didn't have to pick the black ones out of a mixed bag!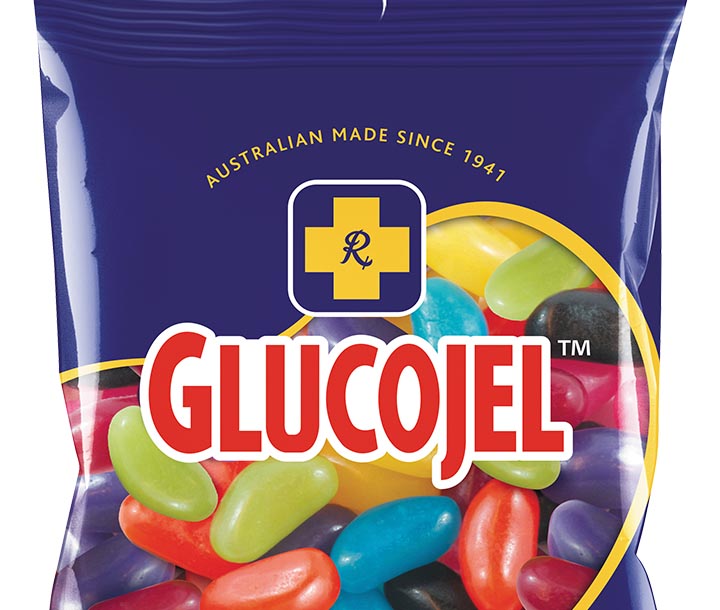 The gold cross on the pack
Have you ever wondered about the gold cross above the Glucojel name? The very first packs of Glucojel jelly beans had the word Gilseal where Gold Cross now appears.
Gilseal referred to the Pharmacy Guild of Australia, the organisation that represents nearly 6,000 community pharmacies around the country. In the 1960s, the Guild had the idea of creating a gold cross to identify pharmacies. Eventually, this highly recognisable symbol replaced the Gilseal name on packs of Glucojel jelly beans.
An Aussie icon
One thing that has always been true, and always will be, is that Glucojel jelly beans are made in Australia. They are made in Victoria, from where they are distributed to almost every pharmacy in almost every community in every part of the country.
The recipe for Glucojels has remained pretty much untouched over the years. The one big change we made was when we started using all natural colours.